The West Broad Community Garden is showing the last of the summer's bounty. Ripe peppers and tomatoes hang from the vines. Okra makes a final effort to produce sharp green pods. Towering orange Tithonia flowers welcome butterflies to perch on their petals.
Over the next few weeks, the garden will transition from vibrant summer fruits to early cold weather crops – kale, spinach and greens. Of course, this change does not happen by itself.
Participants of Young Urban Farmers, a program run by Athens Land Trust, do much of the work in the West Broad garden. Working side-by-side with local farmers and community members, Young Urban Farmers participants learn how to farm the land, work on their own small business ideas, and earn a paycheck.
A new season
With a new school year underway, Young Urban Farmers coordinator Tony Gayles is gearing up for his second year with the program, a new growing season and a new cohort of young farmers. Over the next year, Gayles hopes to increase production from the community gardens.
"Growing up to learn is good. There's value in that," Gayles said. "But there's even more value in putting it on someone's plate."
A former teacher from New York, Gayles moved to Athens to be closer to his home in Jacksonville, Florida. Gayles is a farmer himself – he runs Littlefoot Farm in Athens. He started working with Young Urban Farmers last year.
"We're just incredibly lucky to have Tony working with us…he's very passionate about what he does, and he's very passionate about trying to help young people excel and thrive." , said Heather Benham, executive director of Athens Land Trust. .
The program gives young people in Athens-Clarke County the opportunity to find a different first job, away from the fast food restaurants and movie theaters where many teenagers find themselves working in high school.
"It's a fast-food-like paycheck, and not nearly as mind-numbing," Gayles said. "It's a little more interactive, more useful and intentional."
Benham said the need for job opportunities for young people, especially in low-income neighborhoods, has come up frequently over the years at land trust neighborhood information sessions. In a university town like Athens, it can be difficult for high school students to compete with college students for jobs, she said. Athens Land Trust's youth programs aim to help solve this problem.
"[Our youth development programs are] beyond a first job. It's something hopefully a bit more holistic and comprehensive to improve their long-term situation," Benham said.
Young entrepreneurs
While Young Urban Farmers emphasizes technical farming skills, students also develop business plans that they can execute through the West Broad Farmers Market. Tay Scott, who was a young farmer during last year's round, grew and sold cut flowers at the farmers' market.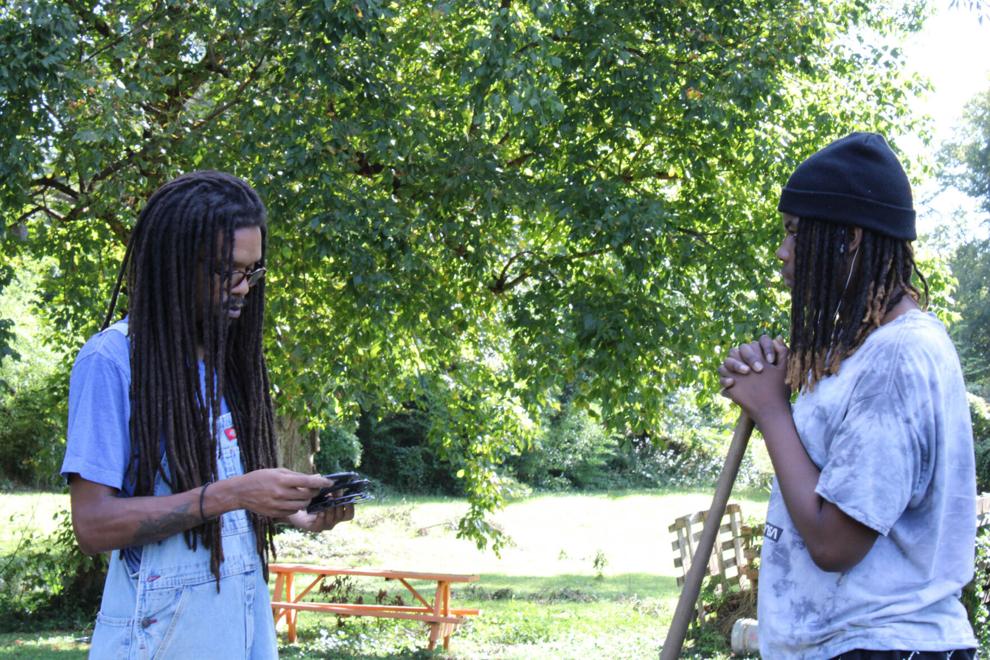 "I just like the way [the flowers] look, they look so dynamic," said Scott, a junior at Cedar Shoals High School. He is continuing the program this school year.
Other business ventures have included growing mushrooms with mushroom logs and selling birdhouses, Gayles said. Some former participants continued to work on their business ideas even after participating in the program.
Once the new cohort members are hired in the fall, they will begin group business planning to prepare their own projects in the spring. Starting the program in the fall also gives participants the opportunity to experience a variety of seasons in the garden.
"It's different to see it when it's like this compared to spring and summer [when it's] fully developed," Gayles said.
Young Urban Farmers' impact has grown since its inception in 2013. According to the Athens Land Trust website, it has employed more than 200 students from three Athens-Clarke County high schools, while benefiting the community qu he serves.
"It's a wonderful program," Scott said.
Those who want to support Athens Land Trust can volunteer or donate, and those who want to support young urban farmers can visit the West Broad Farmers Market. For more information about the land trust and the Young Urban Farmers program, you can visit athenslandtrust.org.